Welcome to UVSAAF
The Unofficial Virtual South African Air Force was established in November 2010, and since then, we grew stronger, and today we offer a complete Air Force experience. From training at Langebaan, to Test Pilot at Overberg AFB. Our raking system is on par with the air force, as well as other leading VA's. As the leading virtual SAAF, we strive to replicate the real SAAF in a virtual experience. Our Mission is to give each user an unique military experience, and make virtual flying adventurous. To join, simply scroll to the bottom of the page, and become part of our team!
Latest News
Dias Festival
Posted by Johan Jacobs on 01/07/2014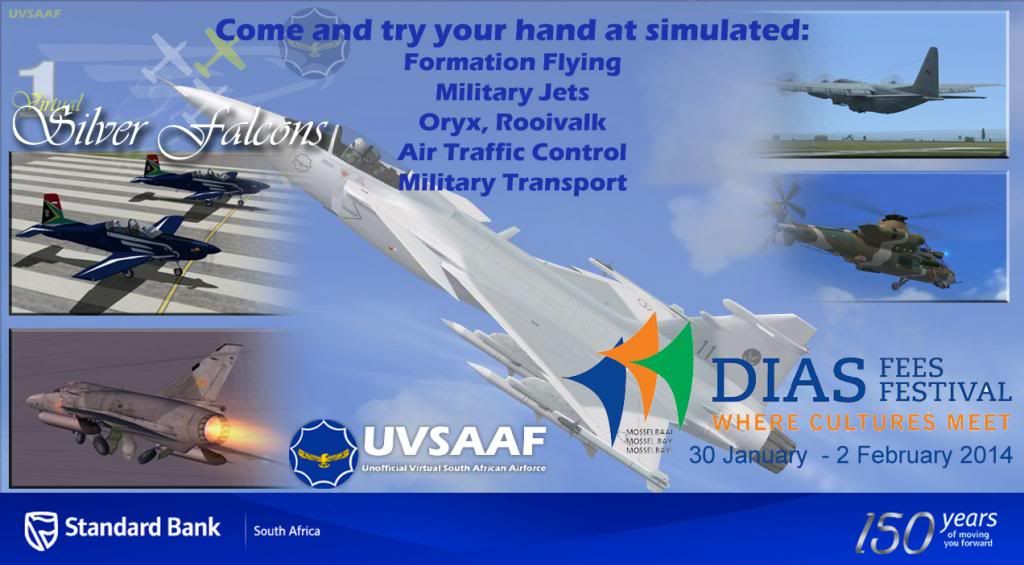 UVSAAF will be live at the Dias Festival in Mossel Bay! We will have a few big screens and a couple of Flight Simulator rigs for the public to test their skills. We will also backplay some air show recordings. See you there!
---
Swartkops Museum Show 2013
Posted by Johan Jacobs on 10/12/2013
Ladies and Gents, Welcome to the Swartkops Museum show 2013!

This show will be hosted during the month of November. The primary displays will be Museum aircraft. Other displays are welcome, but a primary display should be any museum aircraft you are rated on.
Prizes to be won!
JDS has offered to sponsor 2x customized coffee mugs for the best displays in the following categories:
1) Best Fixed wing display
2) Best Helicopter display
For more info, visit the forum

visit JDS
---